The Best Fish Restaurants in South Mumbai for a Memorable Dining Experience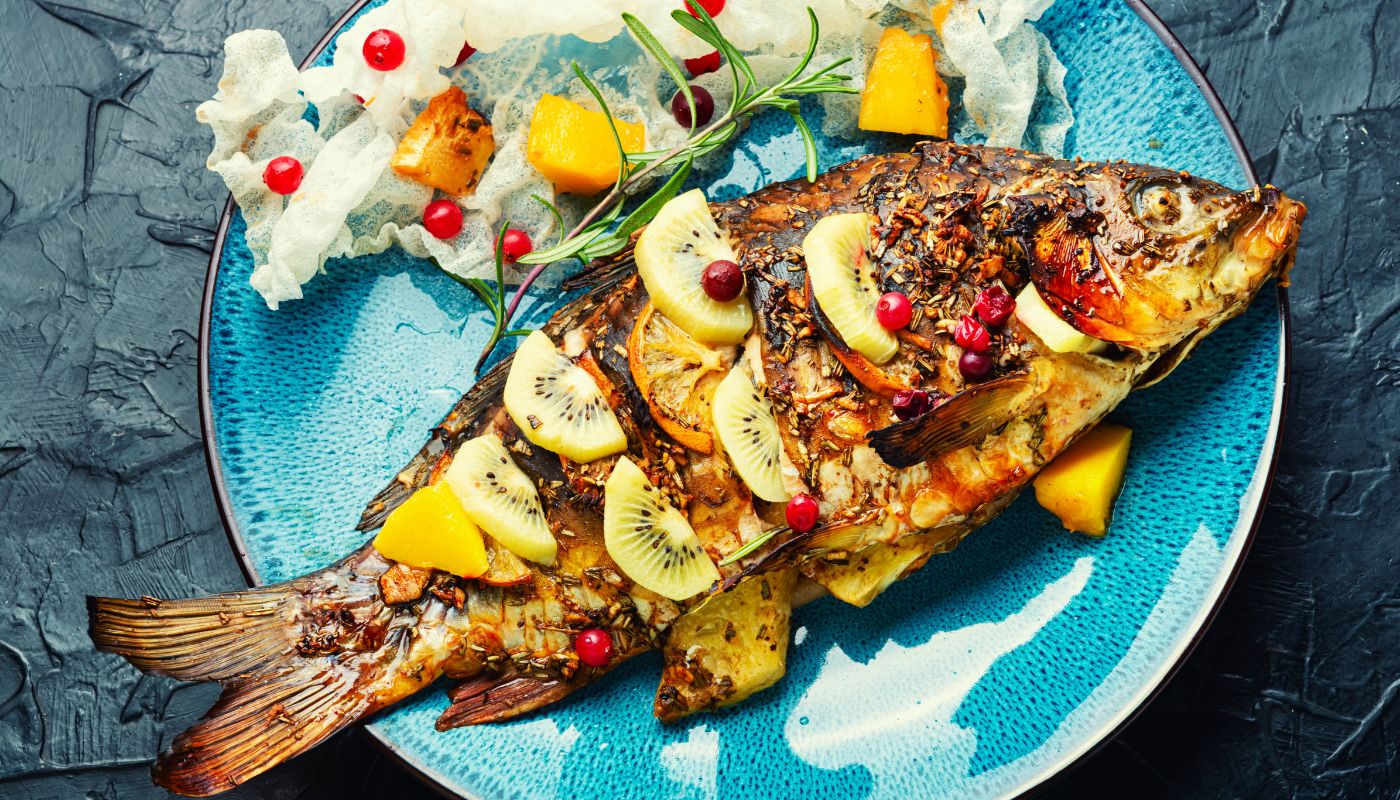 The fish restaurant in South Mumbai has received rave reviews for its exquisite seafood offerings. We serve high-quality fish with a delicious flavour. Our fish restaurant is well-known for its fish dishes, which you should taste!
Pratap Lunch Home is the perfect spot for seafood lovers who want to sample some of the best in the world. Our superb cuisine includes traditional Mangalorean delicacies as well as a variety of other world-class specialities.
Dive into the World of Fish
Fish is very beneficial for human health. Different types of fish are there according to location.
Here are some critical advantages of consuming fish:
Nutrient-Rich:

Fish is high in essential nutrients like high-quality protein, omega-3 fatty acids, vitamins, and minerals. These nutrients are necessary for good body functioning and overall health.

Heart Health:

In daily routine, eating fatty fish will help to prevent heart disease. Fish provides omega-3 fatty acids, which help lower blood pressure and improve heart health. You can eat fish every day.

Brain Function:

The omega-3 fatty acid is required for proper brain growth and function. Fish consumption can help to boost psychological health, memory, and concentration.

Eye Health:

Because fish have nutrients like omega-3, it helps improve our health; just like consuming fish reduces eye health risks, it's essential for those over 50.

Weight Management:

Fish is a high-nutrient source that increases fullness, and this supplement can aid in Weight loss or maintenance.

Bone Health:

Fish is an excellent source of calcium, which helps to keep bones strong and healthy. Consuming fish may lower the incidence of silent bone disease.
Discovering the Wonders of Fish Dishes
We provide a variety of fusion fish meals at our Pratap Lunch Home restaurant in Mumbai. Our experienced chefs prepare fish in various ways, including fried, tandoor, curry, steamed, platter, appetiser, and biryani.
When customers visit our Fort Fish restaurant in Mumbai, we prioritise their preferences. We offer a wide variety of fish food. If a customer requests an oil-free cook or has a dietary allergy, our team will accommodate them. Our customers are delighted to hear that we have provided their requirements. More information can be found on our menu!
Discovering the Best Boneless Fish Options
There are certain fish that do not have bones:
Surmai

Bangda

White Pomfret

Beltfish

Rawas

Bombil

Shellfish

Squid
Some fish on this list have little bones, yet they do not affect our throats. If in doubt, our chefs or staff will assist you, and we will remove all of the bone before serving. Crab Fish offers a crab cracker utensil commonly found in south Mumbai restaurants.
Dive into a seafood experience at our Mumbai Fish Restaurant , which offers a broad assortment of fish specialities.
Every dish at our Fish restaurant in Mumbai is a love letter to the ocean's bounty.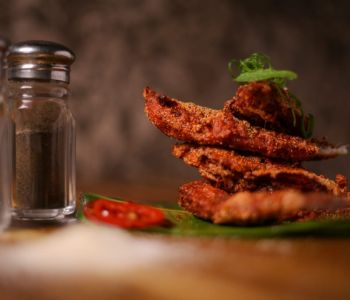 Unveiling the Finest Fish Dishes in Colaba restaurant
Pratap Lunch Home's famous seafood dishes in South Mumbai include: What are the renowned fish choices for restaurant dishes?
Seafood Platter

Lobster Chill Roast

Bombil Fry

Pomfret Kalimiri Tandoori

Seafood Biryani

Surmai Tawa Fry

Fish Andra Paper Fry

Prawns Koliwada

Surmai Tawa Fry

Fish Andra Paper Fry

Fish Tikka

Fish Corn Ball

Rawas Tandoori

Crab Chill Roast

Crab Tandoori

King Prawns Golden Fry

Prawns Ghee Roast

Tiger Prawn Koliwada

Prawns Koliwada
A fish restaurant in Mumbai is well-known for its fish dishes. What kind of fish do restaurants use? As indicated above, we always use fresh fish to provide incredible seafood. Please keep in mind that the availability of these fish may vary based on region, season, and restaurant sustainability practices. Chefs and restaurants usually emphasise utilising fresh and responsibly caught fish to ensure the finest quality for their dishes. We care about our client's health, pleasure, flavour, and choice. You can find additional information on the menu card of Pratap's Lunch Home restaurant in Fort.
Tips for Ordering the Perfect Fish Dish
Freshness is Key:

When ordering a fish meal, we must consider the freshness of the fish.

Seasonal Availability:

Consider the seasonal availability of several fish species. Inquire about seasonal catches or discounts to make the most of the fresh goods.

Know Your Preferences:

Choose fish food based on your preferences. Check for a variety of dishes based on your taste and preferences.

Cooking Methods:

You can prepare fish in numerous ways, including steamed, fried, soup, tandoori, and biryani. Select the dish according to your voice. All cooking methods produce excellent and distinct flavours.

Ask for Recommendations:

When choosing your cuisine, you can ask the staff for advice. The restaurant staff is well knowledgeable about the food and menu at their Colaba restaurant. So, feel free to ask for recommendations.

Local Specialties:

Try the local specialities and regional fish dishes when dining in a specific location. This helps you to become immersed in the culinary traditions and flavours of the region.
Indulge in Seafood Restaurant & Bar's Flavors of the Sea with a Spirited Twist!
In our Fort restaurant, there is a bar area. That has been accomplished for our beverage customers. Cocktails, mocktails, beer, vodka, and whisky are all offered. You can enjoy a drink alongside one of our most excellent fish meals. You can drink with your lover or family. Drinks and fish starters or main courses go well together. We did lighting and background music for our customer's satisfaction. You will have a good time in our restaurant.
At our seafood restaurant in Mumbai , and Best Seafood Restuarant in Mumbai famed for its unique flavours, you can experience the true essence of coastal cuisine.
Elevate Your Events with Catering and Enjoy Convenience with Online Food Ordering!
Pratap Lunch Home in Colaba provides online service. We offer an online interface for delivering your online food. You can also order meals from our restaurant; we will give them to your location.
Catering services are also available in our Fort restaurant. We accept orders for parties, events, functions, and conference meetings. We prepare delicious cuisine, garnish it, and bring it to your place.
We are here to make our customers happy and to meet their needs. So give us a try and see what you think.
The Delicious Fish Thali
A fish thali is a meal that includes Roti, Fish, Rice, Solkadhi, Salad, Fish Curry, onion, lemon, and any dessert. Roti is a Marathi or Konkani fusion dish that includes Ghavane, Kombadi Vade, Chapati, and Bhakari. There are numerous fish to choose from. A Fish platter is provided at our Pratap Lunch house in Mumbai. The Fish platter includes a variety of fish with various fusions.
Visit our restaurant in South Mumbai today and indulge in the ultimate seafood experience with our delectable Fish Thali. Those who seek the most incredible flavours of the sea in every bite will be satisfied.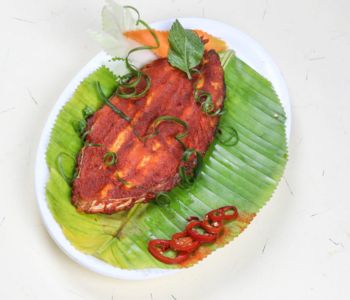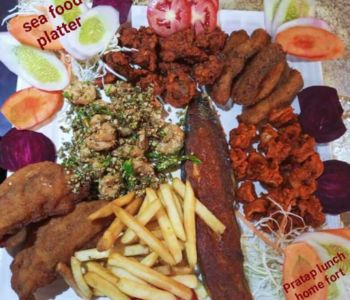 Fish Cost Factors:
The cost of the fish may vary based on region, season, and restaurant sustainability practices.
Supply and Demand Dynamics

Fishing Industry Challenges

Environmental Factors and Sustainability

Processing and Transportation Costs

Quality and Rarity

Market Forces and Global Trade

Aquaculture vs. Wild-Caught Fish

Seasonality and Availability

Regulations and Compliance

Consumer Preferences and Culinary Trends
Understanding these elements explains why fish prices might be relatively high.
Non-Seafood Lovers Are Welcome: Delicious Options for Every Palate!
Pratap lunch home restaurant in Colaba has a variety of outstanding dishes with attractive plating. We offer a wide range of chicken dishes, appetisers, Chinese cuisine, Mutton lovers, and vegetarian options. We also serve breakfast, drinks, and dessert. We care about our client's needs. As a result, we provide a variety of meal preparation alternatives. We will not let our clients down; our goal at Colaba's Restaurant is to make them happy. Check Our menu card for more information.
The Reasons to Choose Us for Your Dining Pleasure
Pratap Lunch Home is the best seafood restaurant in town. It is the only authentic Mangalorean seafood restaurant in South Mumbai.

We always use fresh ingredients and deliver delicious dishes to our customers. Our employees are pleasant to our consumers, and their goal is to meet their demands.

Our restaurant infrastructure is excellent; we installed lighting and background music for our customers' enjoyment. We also offer separate sections for dating, group friends and family, and a separate one for pub spots.

We provide online ordering: you can order via Internet platforms or straight from our restaurant. We offer excellent customer service and deliver your product to your exact location.

Pratap Lunch Home's menu constantly changes based on seasonal produce availability and the team's interest in diverse cuisines.
Pratap Lunch Home, located in the middle of bustling Janmabhoomi Marg, Fort, provides a calm setting, crisp modern decor, edgy lighting, friendly, experienced staff, and delicious food that will make your taste buds dance, leaving you hungry for more. If you want to eat at Pratap lunch home in Fort, you are only a phone call away. Call us today, and we'll reserve a table for you. Trust us and allow us to create an unforgettable experience.