The Fish Restaurant that Stands Above the Rest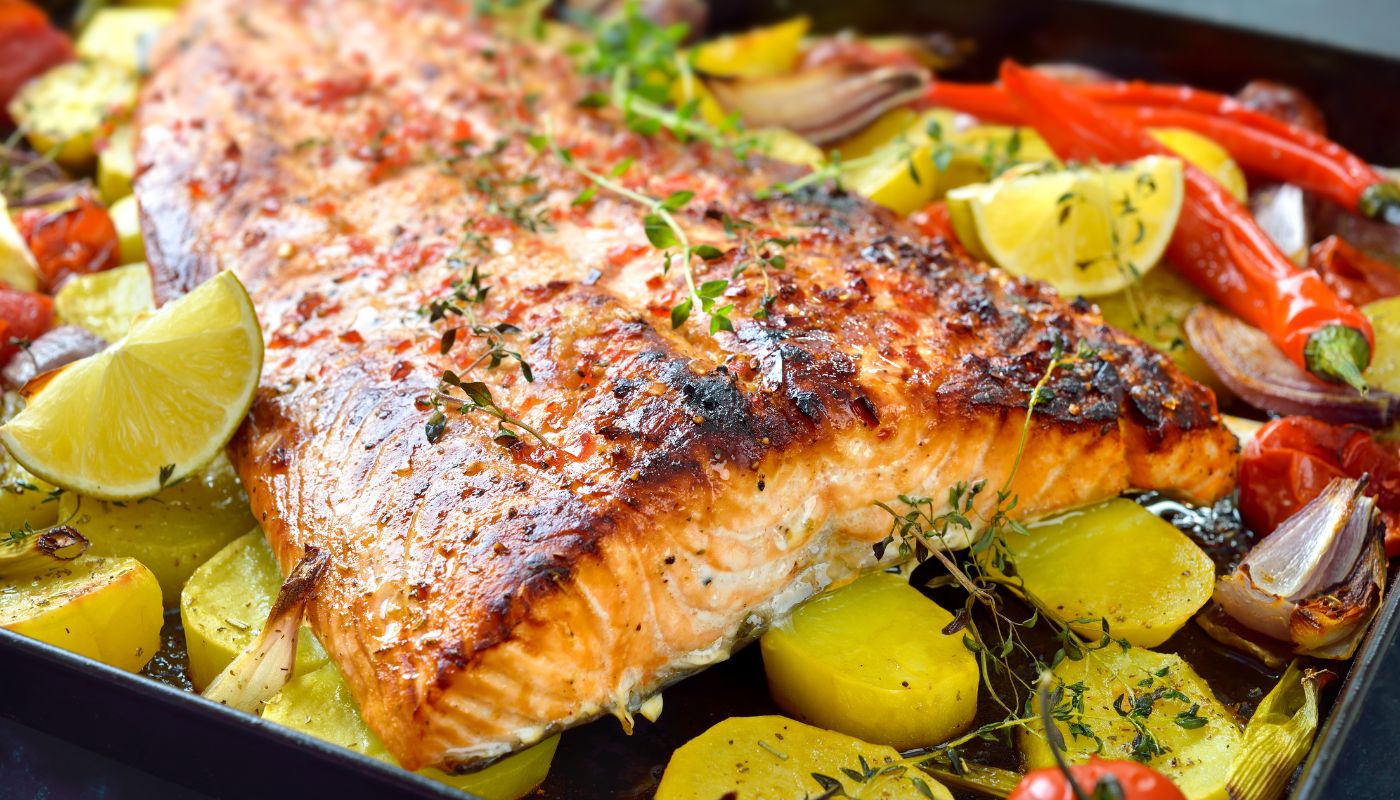 If you are looking for the best fish restaurant, you are in the right place. Pratap lunch home is the best fish restaurant in Fort, famous for fish dishes. We serve all different types of fish. Our well-known restaurant pioneered multi-cuisine dining daily, presenting a delightful assortment of South Indian, North Indian, Mangalorean, Mughlai, and Chinese meals. Pratap Lunch Home, located in the middle of bustling Janmabhoomi Marg, Fort, has a relaxing ambience, crisp modern decor, edgy lighting, friendly, experienced staff, and delectable food that will undoubtedly make your taste buds dance, leaving you hungry for more.
Why fish is important
Fish are vital components of ecosystems, essential for nutrient cycling, ensuring food security, supporting economies, acting as environmental indicators, holding cultural significance, promoting ecotourism, contributing to resilience against climate change, driving research and conservation initiatives, and maintaining the delicate balance of the food chain.
There are several reasons why fish is essential:
Biodiversity and Ecosystem Balance

Nutritional Powerhouses

Economic Importance

Environmental Indicators

Ecotourism and Recreation

Climate Change Resilience

Research and Conservation

Balancing the Food Chain
If you're craving seafood, don't miss the opportunity to visit our Fish Restaurant In Mumbai.
What type of fish food will you get?
Our restaurant is the best in Mumbai for seafood dishes. All of our delightful fish dishes are available in our restaurant. We are well-known for our tandoori fish, fish fry, fish thali, fish curry, steamed fish, and other plates. We always get fresh fish from the fish market. Some of our most popular meals include Haryali Crab Meat, Tandoori Crab, Crab Kalamiri Tandoori, Gassi Crab, Fish Tawa Fry, King Prawns Gassi, Pomfret Butter Pepper, and Prawns Chilly Roast.
In our Fort Restaurant, we serve a fish platter. Fish Platter includes a variety of fish with various fusions. The use of multiple spices enhances and makes each fish dish memorable.
Visit our South Mumbi Restaurant and enjoy the wonderful blend of flavours that await you on our tempting Fish Platter.
Types of Fish in India
Here are some common types of fish found in Mumbai:
Bombay Duck (Bombil):

A popular local fish frequently used to prepare the fried snack "Bombil fry".

Pomfret:

Black Pomfret (Halwa) and Silver Pomfret (Paplet) are prevalent in Mumbai and used in various seafood dishes.

Surmai:

Surmai, also known as Kingfish or Seer Fish, is a treasured fish in Mumbai, where it is frequently used to prepare delectable curries and fry dishes.

Rawas:

Rawas, also known as Indian Salmon or Indian Threadfin, is a popular fish in coastal cuisines, such as fish curry and tandoori preparations.

Prawns:

Tiger Prawns and Pink Prawns are two prawns available in Mumbai. They're popular in curries, stir-fries, and biryanis.

Bangda:

Bangda, also known as Mackerel, is a popular fish in Mumbai. It's frequently used for frying, grilling, and creating curries.

Kolambi:

Kolambi is a local term for prawn or prawn, popular in Mumbai. It can be found in curries, stir-fries, and biryanis, among other foods.
These are just some of the types of fish that are available in Mumbai. In Mumbai, there are many types of fish available.
Dive into a world of exquisite flavors, where the ocean's treasures come alive on your plate. Welcome to our fish restaurant, where every bite is an unforgettable journey for your senses.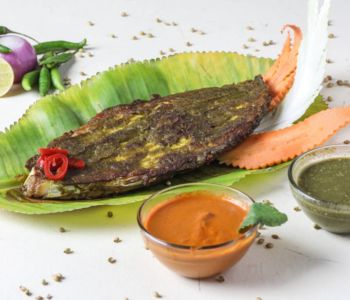 A Dive Into all Kinds of Fish
Did you know that fish have various types of benefits? Nature has given us many priceless gifts, including the magnificent gift of fish. This aquatic marvel plays a vital function in the complicated web of the food chain and serves as a health beacon. Fish is high in good fats, essential vitamins, and minerals, and it can cure various lifestyle-related disorders when ingested in moderation regularly.
The best Indian fish or seafood for a high-protein diet:
Rawas

Bangada

Surmai

Pomfret

Crab

Prawns

Rohu

Rani Fish
The above fish has a beautiful flavour and are less bonefish. They are well-known fish in our Colaba restaurant and are mostly consumed at Pratap Lunch Home Restaurant. Fish is thought to be a good source of weight loss. If you want to know more about fish, you can refer this website Click here.
Are you looking for a family-friendly dinner? Join us at Pratap Lunch Home for a delightful and family-friendly dining experience! Our restaurant is dedicated to providing a warm and welcoming environment for families like yours. We offer a diverse menu with options to satisfy all tastes and dietary requirements. From our specially created kid's menu to allergen-friendly alternatives, we offer something for everyone. Bring your kids for a memorable dining experience with attentive service, exciting games, and excellent food. Take advantage of our exclusive family discounts and promotions. Make unforgettable memories at Pratap Lunch Home in Fort!
Elevate Your Events with Our Exquisite Catering Services
Exquisite Catering Menu:

Our skilled chefs have prepared a diverse and delectable catering menu showcasing our culinary skills. Each dish, from starters to desserts, is carefully created using the finest ingredients to provide an unforgettable dining experience.

Convenience Redefined:

Are you organising a party or a gathering? Allow us to manage the meals while you focus on making lasting memories. Before delivering each meal to your home on time, our catering experts will carefully prepare and box it. There's no cooking, no cleaning, just fantastic food delivered straight to your door.

Freshness and Quality:

Every dish we serve is made with the highest quality and freshest ingredients available. From locally sourced items to our seasoned culinary skills, we strive to exceed your expectations and make your catering experience unforgettable.

Seamless Ordering Process:

Ordering from our catering menu is simple and quick. Please browse our website or call our specialist catering staff to discuss your requirements. We'll walk you through the menu options, assist you in personalising them, and handle the delivery arrangements.

Perfect for Every Occasion:

Our catering services are designed to enrich every occasion. Our catering delivery service is a beautiful choice for any corporate event, family gathering, or special occasion. Enjoy our delicious delicacies without having to prepare anything or leave the comfort of your chosen place.
People have a lot of fish questions. Sometimes they're scared that a fish bone may get trapped in their throat, and they're looking for the best fish without bones. If a fishbone becomes stuck in someone's throat, bite a piece of roti or eat dry steamed rice, and the bone will dissolve. However, it will not hurt your health. Pratap lunch home provides you with boneless or less-boned fish to consume. We can serve bone-free fish to our customers at our Colaba restaurant.
You can also visit our seafood restaurant in Mumbai , and Best Seafood Restuarant in Mumbai which serves a delightful selection of aquatic treats.
Customer Feedback Matters! Share Your Review of Pratap Lunch Home
Best Fish Restaurant in South Mumbai is always concerned about customers' opinion and try to improve their requirements.
Your reviews matter for serval reasons:
Quality Assurance:

We need to know how our customers perceive our Fish food and the infrastructure of our restaurant. Consumers should leave a review to learn about our customer's perceptions of our restaurant. After reading the review, our Fort restaurant will implement the customer's request.

Customer Satisfaction:

Your feedback will assist us in meeting your expectations. Our employees and supervisors are encouraged by your feedback and are making improvements to work harder. Ensure that your future visits are even more delightful.

Community Engagement:

Your feedback will also help others learn about our Colaba Restaurant. People who are gourmet for fish cuisine will come to our Colaba restaurant because of your great feedback.

Continuous Improvement:

Pratap Lunch Home in South Mumbai is always ready to treat our customers well and is always concerned about their needs. We will learn about our customer's thinking and involvement via the customer review.
You can provide feedback through Online Review Websites, Social Media, and Direct Feedback. Your help and suggestions are vital to us, and we genuinely appreciate the time and effort you put into sharing your thoughts. We hope to serve you again soon.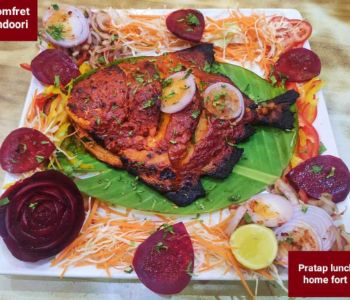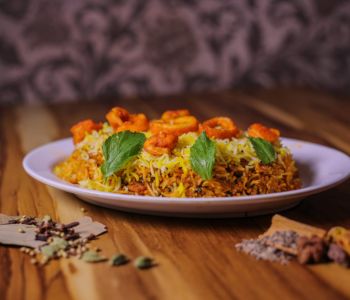 Pratap Lunch Home Recommendations Food for customers:
Fish Platter

Lobster Chill Roast

Bombil Fry

Pomfret Kalimiri Tandoori

Fish Biryani

Surmai Tawa Fry

Fish Andra Paper Fry

Fish Tikka

Fish Corn Ball

Rawas Tandoori

Shellfish Sukka

Surmai Malwani

Fish Koliwada Biryani etc.
For more details, you can check our menu.
Delightful Dishes Delivered to Your Doorstep
Pratap Lunch Home offers online ordering. We have an online ordering facility, or you can contact our restaurant and order your food.
Online Ordering:

Do you want one of your favourite dishes from Pratap lunch ome Restaurant? You may now instantly browse our menu, place your order, and make secure payments online using our user-friendly website or mobile app. You can order food from wherever you are.

Delivery and Takeout:

We use a reputable third-party platform to deliver your order to your address. You can notify our employees while ordering food that you want to takeaway food at this time, and our team will prepare and pack your meal so that it is ready for takeaway when you arrive.

Quality and Freshness:

Our Fort restaurant serves quality cuisine to guests by using only fresh ingredients. We are known for our fish dishes, but our plates are fantastic. For a beautiful experience in Fort, visit Our Pratap Lunch Home Restaurant with family, friends, and colleagues. We look forward to hearing from you and hope you like our company. Reserve your table right now.